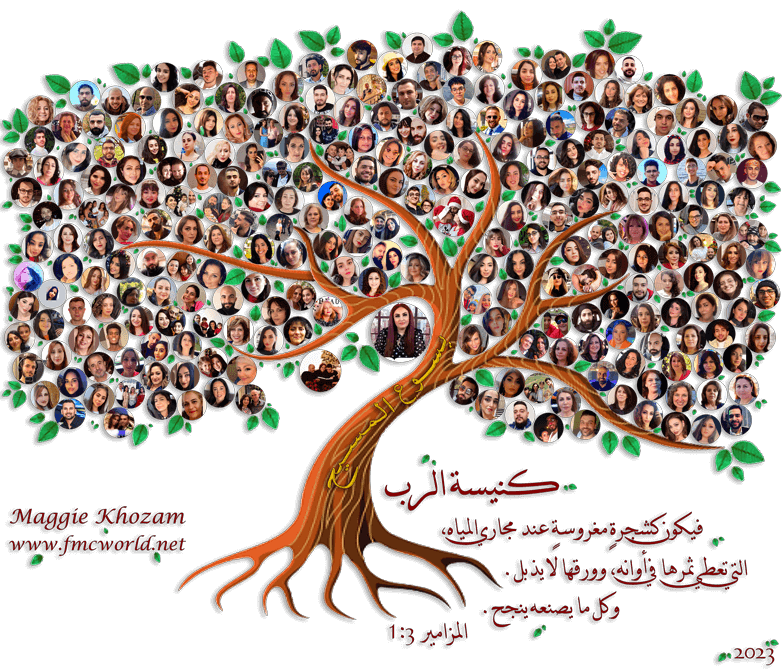 †
Why should I be a Christian
†
We know in no uncertain terms that our life on this earth will not be repeated and that we are present on it as a short, temporary journey like a test in order to obtain either eternal life or eternal torment after it. From here comes the pursuit of all human beings for the best way to guarantee them eternal bliss (the kingdom of God), and from this point of view you have to ask yourself some questions that will lead you to the starting point:
1- Do I follow the true God? Or I inherited my religion from my family without deepening and understanding?
Religion that leads to the true God remains for his followers to enjoy love, mercy and humanity, as the Lord Jesus Christ taught us to distinguish the true religion from the false religion that a false prophet brings by saying (Matthew 16: 7 Beware of false prophets from their fruits you know them)
2- How do I know that I am On the right path or am I lost?
From the shape of your life on earth, and if your life is miserable and destroyed, full of failures, sickness and want, then know that you are on the path of Satan because the true Lord God has promised his followers success, healing, victory and strength, and Jesus Christ affirms that by saying in Luke 17:21 because, behold, the kingdom of God Inside of you. The kingdom of God cannot be within you and leave you to suffer humiliation and need.
3- How do I discern the true faith that leads to eternal life?
Who is the representative of this faith, where the representative of our faith is the Lord Jesus Christ who rose from the dead, giving us a promise that he will raise us after death while the prophets of other religions died without even being able to raise themselves from the dead. Who do we believe? Do you believe the living forever and ever? Or do we believe the dead?
†

How to Become a Christian

†
1- Believe that you are loved by God
The good news of the Christian faith begins with the recognition that you are loved and accepted by the God who created and sustains the world.
Jesus Christ taught us to call God "Father." While some people may lack the positive experience of a loving parent, most can imagine what the word "father" can mean at its very best. It suggests one who gives life, supplies love, provides care, protects, guides, watches over, enables growth, and gives freedom. This is what God is like. Even when we do not acknowledge God, God cares for us like a mother who cares for her children.
God knows us intimately and loves us totally.
2- Realize how much you need salvation
The Bible plainly teaches that all human beings have sinned, and fall short of the glory of God, and have no ability to save themselves from the consequences of their sins. We see this truth in the realization that human failures, our wrong choices, and stubborn self-will leave us guilty and powerless, and that habits can easily become addictions that are almost impossible to break. Not only that, but human sin affects our whole society, creating a world full of injustice, greed, oppression, pornography, pollution, and violence.
Despite this sinfulness, God did not stop loving us or desiring fellowship with us.
As strange as this may seem to us, John 3:16 tells us that "God so loved the world that he gave his only Son, so that everyone who believes in him may not perish but may have eternal life." Through the life, death, and resurrection of Jesus, we gain the right to become daughters and sons of God and receive the sure hope that this new life will continue beyond death, bringing us into heaven. That's the good news of the Christian faith!
3- Confess your sins
It's not enough to admit that you have sinned. You must regret those sins, and then turn away from them.
The New Testament uses several words to describe a genuine response to the gospel message. The first word is "repentance," which in the original Greek literally means "turn around" or "change of mind." We are told it is a crucial part of responding to the good news of God's grace.
When you hear the word "repentance," you may think immediately of feeling or being sorry. Being sorry is appropriate, but it's not the main sense of the word "repentance" at all. To repent is to "turn around," that is, to change the direction of your life. More than just a change in your emotions, repentance involves a change in your thinking and in your actions.
Your will and your behavior will also change. True repentance means that you want to please God rather than yourself. You come to love what is good, not what is bad. You experience a life directed outwardly to connect with others, rather than inwardly focused on yourself.
4- Commit your life to Christ
Faith is another key word the New Testament uses to describe a genuine response to the good news. Accept what God has done by faith and receive salvation as a gift. And in response, commit your life to following Christ, and enter into a relationship with him through prayer, Bible reading, and worship.
We come to know and love God more through the Holy Spirit, who enters our hearts when we commit our lives to Christ. Once we have committed our lives to Christ, the Holy Spirit continues to live and work within us to mold us into daughters and sons of God. "When the Spirit of truth comes," said Jesus in John 16:13–14, "he will guide you into all the truth…he will take what is mine and declare it to you."
It is not important how we come to Christ, but that we come.
5-baptized  in the name of the Father, the Son, and the Holy Spirit.
You will not become a Christian if you do not fulfill the condition of salvation (Mark 16:16). By this you realize that by faith and baptism together you will become a Christian and be called the Son of God.
 6- Receive the gift of filiation
A Christian is the only person on earth in which the Holy Spirit (the Spirit of God) dwells. Since there was no prophet or religion who was able to promise his followers the gift of the Holy Spirit except the Lord Jesus Christ, after baptism you will receive the gift of God to you as a son / A daughter of him, the Holy Spirit will dwell in you, who will undertake the task of introducing you to your Heavenly Father gradually according to your faith and what you may endure, and he will continue to work within us to be truly daughters and sons of God and to realize the depth of God. Jesus said in John 16: 13-14, "As for when that spirit of truth comes, he will guide you to all truth,… He glorifies me because he takes from what I have and tells you.
7 – Live a life of gratitude to God.
Christian living involves a transformation of our whole lives out of gratitude to God. In Reformed churches, obedience to the law of God in the Ten Commandments is seen as an opportunity to express thanks to God for what God has done. This obedience is not seen as a means of winning approval, but of showing love and appreciation to God. Jesus taught his disciples, "If you love me, you will keep my commandments" (John 14:15).
This understanding of life as gratitude has two important consequences.
First, it frees us from continual concern about our performance. We do not need to keep asking "Am I good enough?" because our purpose is simply to let our lives express our joy and gratitude. Second, all of life is now seen as an opportunity to serve God.
Second, our lives are transformed from servants of our desires and our selves into children of the King of Kings and Lord of Lords, and thus we rejoice, mature and bear fruit, and through.
One way Christians display gratitude is by worshiping God. We also express our gratitude through the way we treat our family members, perform our jobs, use our leisure time, vote, participate in community action, interact with neighbors, spend money, and bear witness to our faith.
We say thanks to God through all our efforts to share his love and compassion with the world. We say thanks in our efforts to invite people to church, work for justice, provide hospitality, tutor a child, welcome a newcomer, or volunteer abroad or in our own community.
As Christians, we show our love for God by the way we relate to others. "Beloved, since God loved us so much, we also ought to love one another" (1 John 4:11); "let us not love in word, neither in tongue; but in deed and in truth." (1 John 3:18).
  In short and in some other way, we should put on Christ.     
†
are you ready ?
†
After you are certain that Christ is the way, the truth, and the life, and that there is no salvation except through Him, and that there is no heavenly kingdom, you will attain it if you do not follow the Lord of the kingdom and the Judge to whom everything has been paid by the Father, you must begin your first actual steps in becoming a Christian:
1- Read The Bible has its two covenants starting with the Bible (the New Testament) and ending with the Old Testament.
2- Ask to be a student of a Bible teacher.
3- After discipleship comes baptism, where your spiritual guide will secure for you a priest or priest who will baptize you.
†

Ask for help from Bible teacher

Maggie Khozam

as she will guide your steps and personally manage your discipleship

 

†
– Yara from Israel
My testimony is that since I was a child, I was a little close to our Lord and after I reached the age of 12, I started getting further away from God…Until the point that I stopped believing in God…
After that, I grew up and I went through something, it was several things that connected together, and it was a difficult period. One day, I went to get the Bible and opened it, and I did not know why I did that, I ask myself why I did that, and I didn't find an answer… A verse came out to me and I didn't understand what it meant at that time, but I took a picture of it and went to sleep.
At that time, which was about a month, I used to spend all my time in my room studying on zoom and watching YouTube.
I started seeing videos on YouTube and became curious about them to see what they talk about and what is in these videos. These videos were of Christian content and presented by Maggie Khozam… The video was about "how we hear the voice of the Lord and how he speaks to us." Among the things was that we can hear his voice through his word in the Holy Bible, and the explanation was more deeply, so I remembered that I took a picture before for the verses in the Bible, So I went back to the picture and I start reading and something touched my heart, and I remembered myself on that day, how I was and how I am today after the time that passed. I began to feel that the Lord spoke to me that there is spiritual death and resurrection if we believed in the Lord Jesus. I began to understand that I was bound by many sins, that doesn't please our Lord, and also my soul was dying in depression in an empty space, but when I start watching these videos, I had a passion that I want to hear more and I loved the verses that were said. I wanted to finish all the videos because I felt that the emptiness was being filled, and it was filling my soul, and after that, I began to feel that the Lord is talking with me. I started to feel that God is present, God is alive and listening, and then I wanted to get discipleship. I got discipleship with our Mother Maggie Khozam through Facebook, and we used to pray in groups together. I heard from my mother that after a while there will be baptisms, and I that it was the time for me to take this step to bury all the old things and start a new life with Christ and declare my faith in the Lord, and my Savior. I got baptized today 9/25/2022.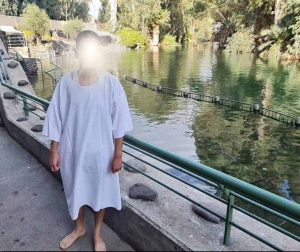 – Mohammed from Israel
Since I was a child, there was in my heart a feeling of attraction to the cross and everything related to Christianity and its symbols, and of course a great love for the personality of the Lord Jesus Christ. I had all these feelings but I did not know the source.
I started from a young age getting to know the Lord Jesus by watching films that embodied his life in the flesh on earth, and I felt a great happiness when I watched. In unplanned and for long and infrequent periods in my life, I continued to hear everything related to Christianity and I start researching the different sects and rituals. Until I started watching episodes of Mother Maggie Khozam. I wanted to watch anything, whatever it was, related to Christianity. After a long time had passed since I watched and delved into the episodes, I got to know the Lord Jesus Christ and the Christian faith truly according to the Bible through the episodes of Mother Maggie. By the grace of our Lord, I decided that I should start a real relationship with the Lord. I contacted our mother Maggie and started discipleship and passed the exams, and by the grace of the Lord my faith became deeper and I got baptized.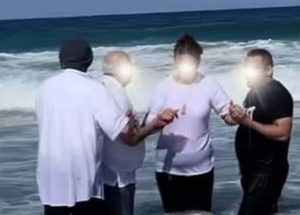 – Fatima from Iran
I was a Muslim, but at the same time, I was an atheist to the point where I used to say God is a lie and he doesn't exist. Two years ago, there were big problems between me and my ex-husband, and I was alone and psychologically devastated. I woke up in the morning and went to the park and started screaming and crying and blaming God. I told him: "Everyone says that you exist if it is true that you are God and you are capable of everything. Let me out of this situation and change my life. I am devastated and lost." After I came home, I got a message from a friend of four years that I hadn't spoken to her since then. She told me that she wanted to see me and that it was necessary. I went the next day. I saw her and learned the story of my life. She told me that she wanted to take me to a place where I can rest. I asked her where is that place and she told me that she want to take me to the church. She turned out that she knew God 8 years ago.
I went to the church when I entered the church door, I didn't feel my body anymore, as if I was numb. When they started singing hymns, I cried and screamed like crazy, as if it was the first time I cried. When the meeting ended, I was very light, as if all the weights that I had carried on my shoulders had gone. My body became like a feather, and on the same day the pastor prayed with me and since that day, I believed and loved the Lord and I will hold on to him because he changed my whole life. Now I decided to join the Lord's Church with Mother Maggie Khozam.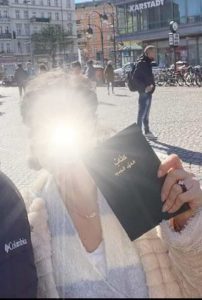 – Aleen from Iran
My testimony is a very long story that began as a girl who was preparing herself to be an Islamic preacher and ended up as a girl who gave her life to preach about the Lord Jesus. When I moved to Germany, I was thinking that I should invite people to Islam on the basis that it is the religion of truth, but I was very shocked when I felt that there was a huge difference between the lives of people who came from European countries and those who came from Arab and Islamic countries, and I was asking myself, where is justice as if they were living on another planet. Then I got a book that talked about the Bible, which I did not read at the time, but it stayed with me wherever I went, wherever I traveled, and after that, I got very sick and tired, and I stayed in the hospital for a long time. When I left the hospital, I thought that I had to search for what I needed for my life to become good and normal, and \ I noticed that the book was still with me and that I never opened it before I start reading it… After only 3 pages, I felt that I loved Christ a lot, and I began to feel new things and joy, and I felt that I was hearing good news… Then I was tired again and re-entered the hospital, and this time I prayed to the Lord who I felt him but I wasn't sure if I know him or not and I asked him to guide me…
After that, someone added me on Facebook and told me about Jesus Christ and I began to know more and more about Christ. I start reading the Bible and discovered that we were living in a great lie with the Islamic Religion, that prevented us from believing in the true Lord, and then once I heard the voice of the Lord, and then the Lord healed me miraculously. I thank the Lord that I reached this day and got baptized, and I became officially a Christian, and when I preach to people I feel that I had fulfilled my dream and my goal of calling people to the true faith.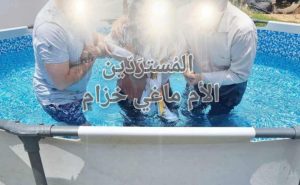 – Lina from Dubai
I knew Christ when I was in high school, and when I grew up and got married, my miscarriage repeated and then I became pregnant with my daughter. All my Christian neighbors and friends prayed for me in the church and recommended to my mother that if I had a daughter, I would name her after the Virgin Mary. Indeed, I named my daughter Mary. The same friends of mine prayed for me when my husband had severe coronavirus and entered a coma, and the doctors considered him clinically dead. My friend began to communicate with me on the phone and pray and make me repeat the prayer with her and shout out at the top of my voice "Jesus, save my husband."
A miracle happened that baffled the doctors, and my husband woke up to new health after 20 days of coma, as the virus caused pressure and sugar problems and damage to the heart, kidneys, and liver. Christ, the Lord of miracles, saved him, so I decided to get baptized. Indeed, I got discipleship from Maggie Khozam, and I got baptized.